Ranieri Cayman 26 Sport Diving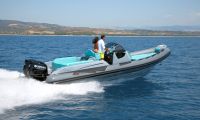 Ranieri Cayman 27 Sport Touring Trofeo
Ranieri Cayman 26 Sport Touring
Prices without taxes.
Ranieri Cayman 26 Sport Touring
General characteristics
Recommended engine
Yamaha F225FETX (225 CV/HP)
Presentation
This 26 feet rib boat from the Sport Touring range will awake all your senses. Simply fantastic and exciting!
Contact any of our offices and ask more information about standard equipment, performance, etc., we will provide it willingly.