Regal 26 FasDeck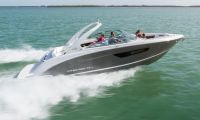 Regal 3300
Prices without taxes.
General characteristics
Recommended engine
VOLVO V8-350 EVC FWC DP Catalyst (350 CV/HP)
Presentation
All elements of a Regal bowrider. With large space, power and quality.
It features the latest news from Regal: adapted to the family, the Walk-Thru that allows access to the stern safely, handmade tapestry, a wide beam and a complete adaptation to new technologies.

Send by Email