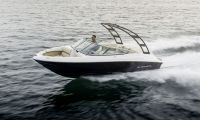 Regal 2000 ES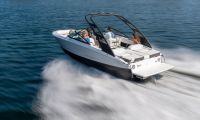 Regal LS2
Prices without taxes.
General characteristics
Recommended engine
VOLVO V6-280 FWC DP Catalyst (280 CV/HP)
Presentation
The calling card for the 22 FasDeck – to hang out and have fun. The transom bench seating welcomes the family to hang out near the water, plus it features a flip-up seat for effortless boarding. The FasTrac hull and expansive Social Seating provide a smooth ride for up to 12 people. Until you feel and appreciate the volume of space and the opportunity for family fun aboard the 22 FasDeck, you're simply missing the boat.
The 22 FasDeck ESX's unique blend of style, performance and features has made this Regal legendary. There are those who follow trends and those that create them. There is no question where the 22 FasDeck ESX stands. Just look around.

Send by Email